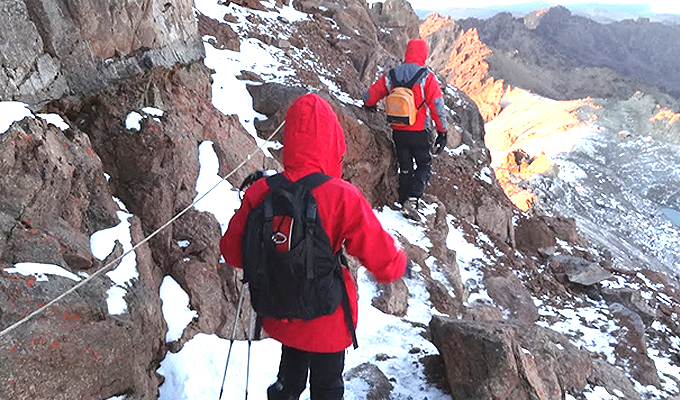 4 Days Narumoru Route Trekking
4 Days Narumoru Route Trekking
This route is popular and often has a lot of hikers since it is the fastest to get to peaks. The vertical bog unique to this route, gives hikers a hard time especially in rainy seasons. It leads into the Teleki Valley beneath the Tryndall, The Lewis Glacier. Though the route is less scenic, it has plenty of vegetation and a home to wildlife.
We recommend spending an extra night at the Naromoru River Lodge, which is at the base for acclimatization. This can be arranged for at an extra fee.
Day 1: Nairobi/Meteorological Station 3-4 hrs. 10km, 400m ascent
Naromoru is closer to Nairobi so it takes less time to get there. After clearing at the Park Gate we trek to the Met station which takes about 4 hours. Passing through the tropical and bamboo forests. The common animals around this area are the Columbus monkeys, buffaloes and elephants. After crossing the Percival's bridge we continue for a few hours to get to the Met station for dinner and overnight stay.
Day 2: Met Station/Mackinder's Camp 5-6 hrs. 10km, 1200m ascent
After breakfast continue uphill on the path, pass by the radio repeater station your right half an hour later. After getting to the forest line the vertical bog starts, rainy seasons are unbearable it gets damp and sticky. It also gets chilly so your warm gear will come in handy. A picnic lunch is served on the          rocks, the journey continues to Mackinder's Camp for dinner and overnight.
Day 3: Mackinder's Camp/Point Lenana/Met Station 8-10 hrs. 11km, 785m ascent
We leave for the summit before daybreak at 2 am it is a 4 hour walk. The sunrise is a view to behold as it illuminates the other peaks and the plains beneath it. Descend down to Mackinder's Camp for breakfast, and continue further to the Met Station for dinner and overnight.
Day 4: Met Station/Naromoru/Nairobi 3hrs, 9km, 400m
From the Met station we descend to Naromoru Park Gate after breakfast, where we get our transport back to Nairobi.
Included:
All park entry fees
Transportation from and back to Nairobi
Services of a trained guide and porters
All camping equipment
Three meals per day breakfast, lunch and dinner
Excluded:
Climbing equipment
Sleeping bags
snacks
Other expenses of personal nature such laundry, beverages, bottled water, tips etc